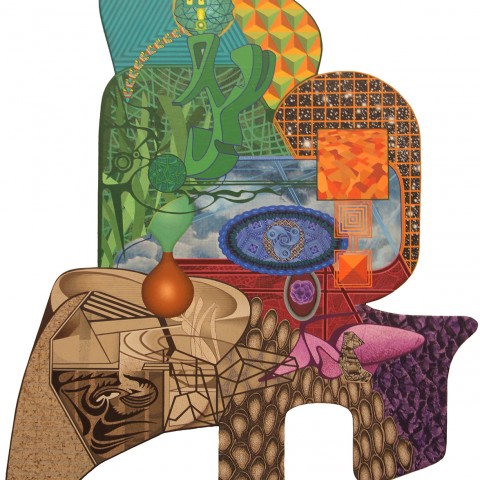 Consciousness as colorful art
By Victoria Dalkey
Bee Art Correspondent
Published: Thursday, Feb. 13, 2014 – 6:23 pm
David Wetzl is one of the most intriguing artists to have emerged in Sacramento in the 1990s. His complex mindscapes map human consciousness in idiosyncratic conglomerations of imagery that relate to art history, politics, philosophical systems and psychology.
Basing much of his work over the past 20 years or so on the theories of psychologist/philosopher/mystic Ken Wilber, he uses a color-coded system to depict levels of consciousness ranging from the lowest (beige) to the highest (turquoise). Within these color fields, he enlivens his compositions with networks of lines and schematic passages suggestive of computer circuitry, floor plans, Islamic motifs, and geometric shapes.
Working primarily in acrylic on shaped wood panels, he charts a course through human history with the aid of S.C.I.P., a one-eyed spirit guide and CEO of Wetzl's imagined wisdom-based corporation TAICOOco.
"Evolution of S.C.I.P. from Youthful Feline Shaman to TAICOOco. C.E.O." includes imagery ranging from Wetzl's alter ego to a cat with geometric markings and polka dots to a spinal column that turns into a flower. The colors, bright yellows and greens on one side, and, on the other, a spectrum of saturated hues from reds to turquoise, may be derived from Wilber, but they stand on their own as vibrant elements in a complex, somewhat convoluted composition.
Like most of his works, the piece leads you through the intricacies of a fictive world not unlike those of myth-making artists such as David Gilhooly and Clayton Bailey. In contrast to their broad comedy, Wetzl's works hover between lighthearted displays of wit and intense seriousness.
Wetzl, perhaps, best explains himself in a statement accompanying his 2007 survey exhibition atCalifornia State University, Stanislaus:
"As an artist, I am a Prius, a hybrid, or mainly an all-terrain archetypal hunter-gatherer trying to dance with, and fuse the dialectical conundrum put forth, for many centuries by beastly beauties and gorgeous geeks."
That conundrum, for Wetzl, is "the adversarial yet subtly interwoven connection between the mind and the body." In portraying this mind/body theme, he creates rich and multilayered works that deal with moods, levels of consciousness, and states of awareness.
In works like "S.C.I.P. Moves Downward into the Po Mod Zone to View and Save the Distraught and Economic World," he gives us an explosive composition in which he uses, in the words of Northern California critic David Roth, "the isms of art history to represent the waxing and waning of all the other isms (social, political, philosophical) that have brought us to our present state."
What you take away is an admiration for the vibrant visuality of his paintings. Obsessively well-crafted and beautifully executed, they are quite simply among the most vivid paintings done in Sacramento in recent years.
The show coincides with Wetzl's retirement from teaching at California State University, Sacramento, and Sierra College, where he has mentored students for 20 years. Having been diagnosed with frontotemporal dementia, he has decided to devote his full energies to his creative work.
That he continues to paint without diminution of his abilities is evident in a new painting, "Worldly Beings Viewing Their Inner and Outer Universe." It is a stunning composition, if anything denser and more intricate in imagery than his earlier work, though somewhat darker in tone.
This is a show that you won't want to miss.