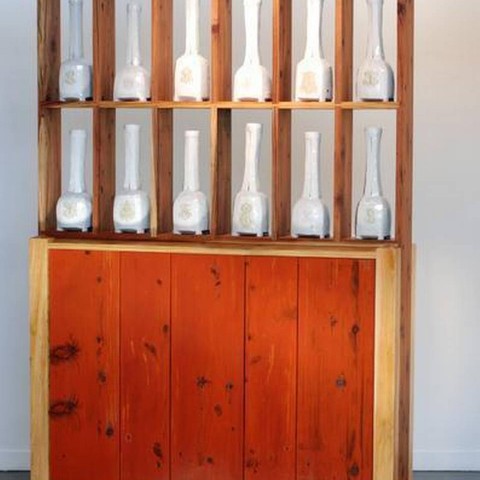 Read the original article on The Sacramento Bee's Art Review by Victoria Dalkey.
'Misc," the title of Trent Burkett's show of sculptures at JayJay, stands for miscellaneous, a word he defines as a collection or group "composed of members or elements of different kinds."
Burkett puts together his sculptures from such disparate materials as beeswax, brass, ebony, eucalyptus, gold, grass, lead, lichen, madrone, marble, plywood, porcelain, redwood and rocks, to name a few. The vast majority are titled "Material Study #1, #3, #9," etc.
For the most part, the materiality of his works takes precedence over any narrative impulses, although some of his pieces are both surreal and evocative of the passage of time. "Material Study #9," in which he has embedded brass duck bookends in sedimentary layers made of tiny rocks set atop a rough, uncut maple burl, suggests archaeological excavations through layers of time.
"Material Study #3" similarly employs the small lichen-stained stones set into a sewing box and revealing a china cup of Furnivals "Blue Denmark" ware. It combines two of Burkett's preoccupations – nature and ceramics. He began as a ceramist and continues to use his skills as a potter and his knowledge of ceramicware in his sculptures, which blur the distinction between art and craft.
"Material Study #8" is a strange piece that combines marble and a plywood construction suggestive perhaps of a scaffolding, playing off the disparity of the precious material and the poverty of the plywood. The piece is flanked by a pair of brass antelope bookends that add a quirky note.
Several of the works in the show have these scaffoldlike constructions appended to them, with varying degrees of success. "Triptych – Elm Marble Elm," with its abstract integrity, is the most successful of these. Also intriguing is "Material Study #6," a kind of case filled with curios, including a Chinese compass and a bottle filled with poisonous yellow lead.
The pièce de résistance of his show, "Cabinet #1," a series of porcelain bottles set in a large wooden china cabinet that mixes colonial Federalist elements with Asian grace notes, is beautifully made. The porcelain bottles are carved into graceful tall shapes whose necks are slit open, emphasizing that they are only partially functional. The base of the cabinet is painted with Chinese red lacquer while the ceramic vessels are influenced by Japanese clay works. Each of the bottles is marked with a European-style monogram, adding to the cultural mix that the piece embodies.
Burkett's background as a ceramist is evident also in "Place Setting," a series of 10 rectangular plates made of white porcelain affixed to the wall in two rows. All of the plates are cracked and thus useless as dinnerware, but they are both beautiful and mysterious.
Mysterious, too, is an untitled piece in which a white porcelain duck, made from a mold of one of the brass ducks, sits in a wooden structure that suggests a cathedral. It is wonderfully strange and humorous, as is "Ducks in a Row," a tall, narrow cabinet with the white ducks literally in a row, a playful pun on the phrase, which connotes the act of getting organized.
There is much to admire in Burkett's work, which is rich and far-reaching. Some of his pieces, especially the ones with the plywood structures attached, seem unresolved though searching. It will be interesting to see how they progress.
Where: JayJay, 5520 Elvas Ave., Sacramento
When: Through March 28, 11 a.m.-4 p.m. Wednesday-Saturday
Cost: Free